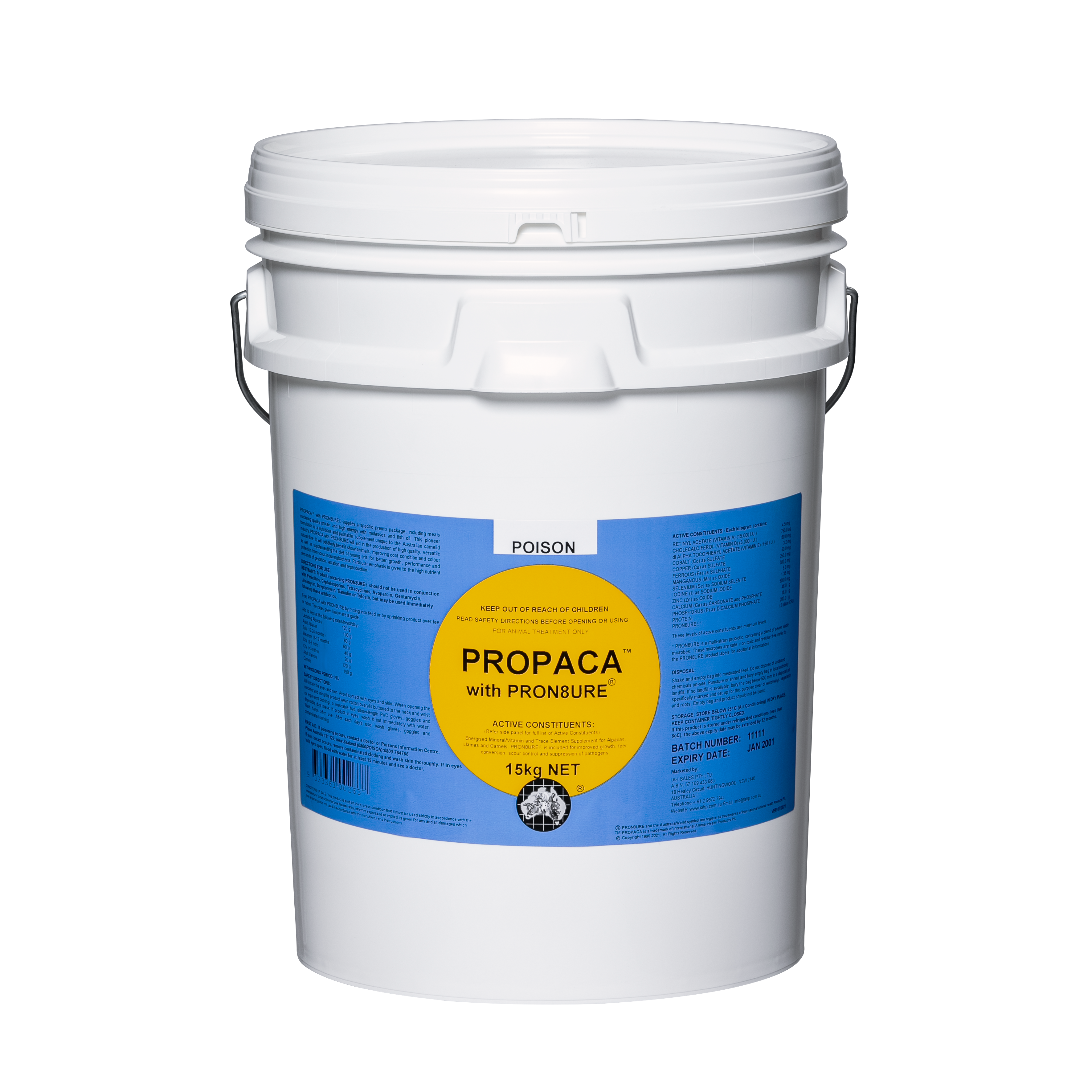 Camelid Vitamins & Minerals
Propaca™ with ProN8ure®
Energised mineral/vitamin and trace element supplement
Propaca™ with ProN8ure® supplies a specific premix package, including meals containing quality protein and high energy with molasses and fish oil.
This pioneer formulation is a nutritious and palatable supplement unique to the Australian camelid industry. Propaca™ with ProN8ure® will aid in the production of high quality, versatile natural fibre. It will positively benefit show animals, improving coat condition and colour, as well as supplementing the diet of young cria for better growth and performance. Particular emphasis is given to the high nutrient demands of gestation, lactation and reproduction.
20% Protein & 11 MJ/kg
Vitamins & minerals
Contains ProN8ure® Multi-Strain Probiotic
Ideal for cria, weaners, tui, adult & lactating alpacas, llamas and camels
Feed PROPACA™ with PRON8URE® by mixing into feed or by sprinkling product over feed or ration
Pack sizes: 15kg, 20kg
Available: Australia, New Zealand
Find A Store near you
Propaca™ with ProN8ure®
ProN8ure® is included in Propaca™ to maximise growth rates and protect cria from scour-inducing bacteria. The beneficial bacteria in ProN8ure® help to quickly establish a healthy population of gut microflora, which in turn helps protect them from overgrowth of harmful strains, as well as aiding a digestive efficiency and improving the utilisation of feed. ProN8ure® helps improve growth rates, feed conversion and enhances health naturally. ProN8ure® is nonhormonal, environmentally safe, residue free and has a nil withholding period. No other product can make these claims.
Innovative research and technology combined with our in-house nutritional consultancy team are proud to advance alpaca and llama nutrition in line with breeder's ambitions. The product of the future is here today – Propaca™ with ProN8ure®


Downloads:
S.D.S DATASHEET