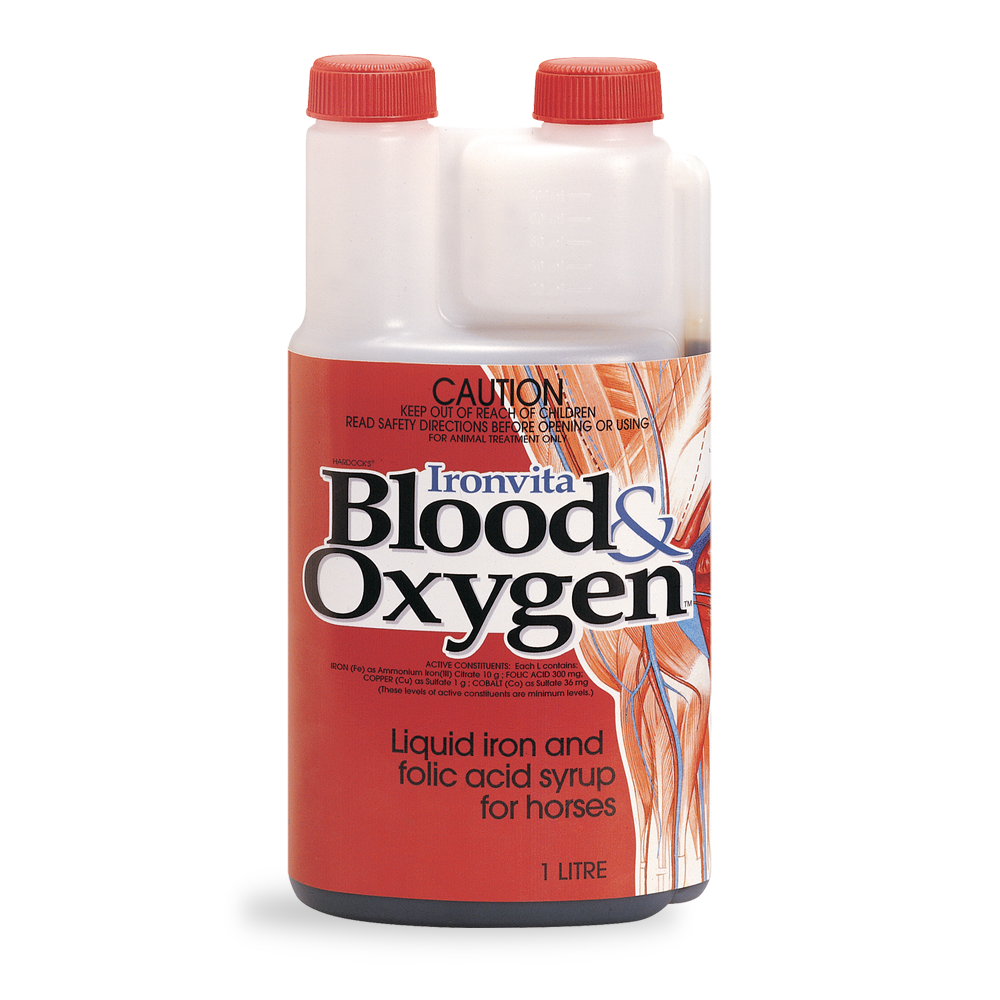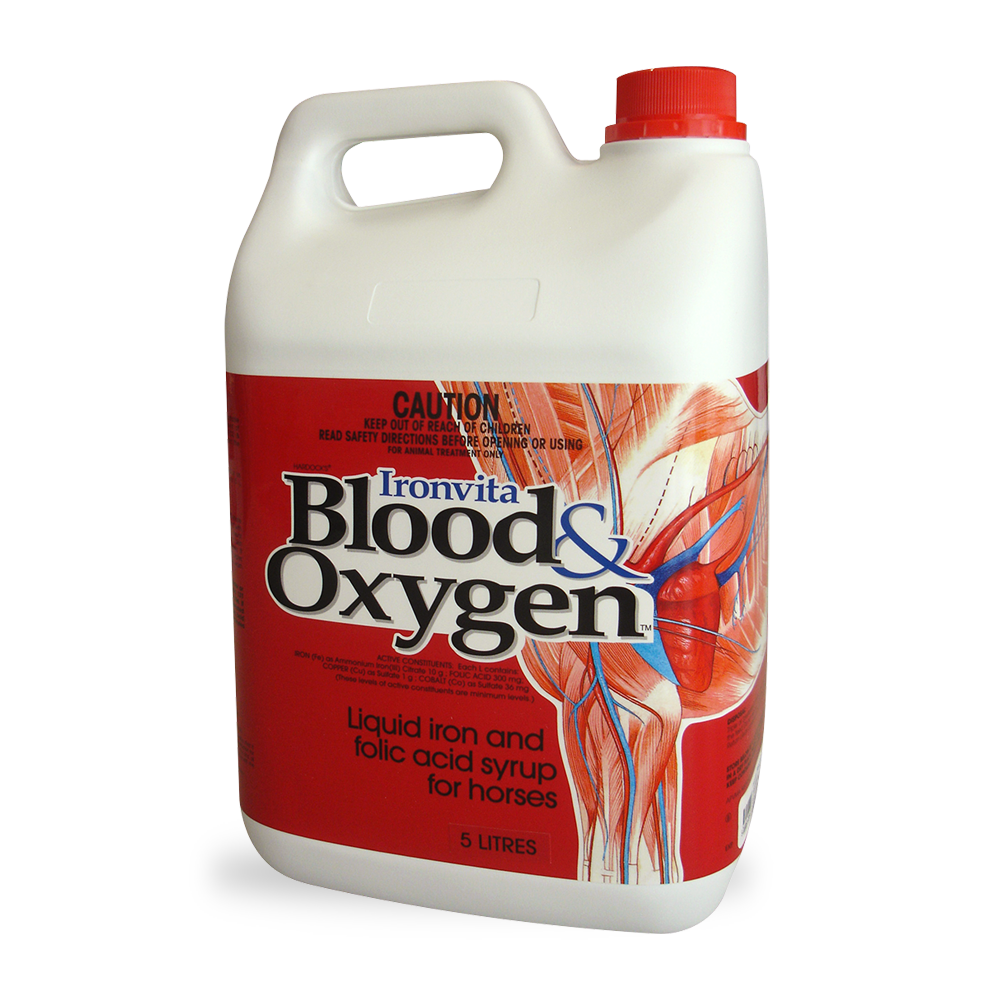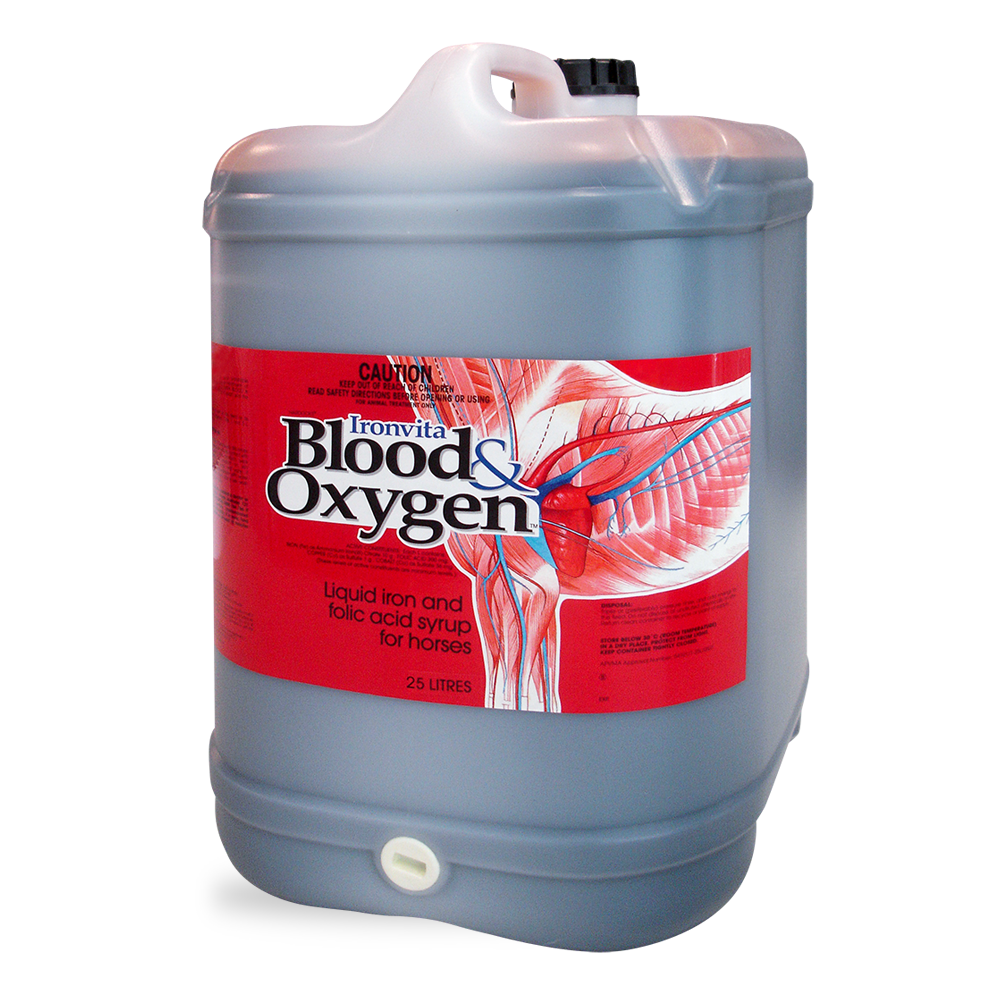 Anaemic Horse Iron Supplement
Ironvita Blood & Oxygen™
Contains iron, copper and cobalt
Liquid Iron, Copper, Cobalt And Folic Acid Syrup For Horses
A palatable supplement for the prevention and treatment of clinically insignificant deficiencies of iron, copper, and folic acid in horses
Contains iron, copper and cobalt, the three essential trace-minerals required for haemoglobin synthesis complemented by the vitamin, folic acid
Supplies ample amounts of these nutrients in a highly palatable syrup for addition to feed
Pack sizes: 1L, 5L, 25L
Available: Australia, New Zealand
Find A Store near you
Q. Where do I buy International Animal Health Products?
A: You can purchase International Animal Health Products in all reputable feed and produce stores - Find A Store near you.
Q. Do horses lose iron in sweat?
A: Horses that sweat heavily, such as harness horses during training, or horses trained under hot conditions or for prolonged periods lose iron in their sweat (23mg/L) and therefore, supplementary iron in the feed is recommended to maintain adequate red cell synthesis and replacement.
Q. Why should I use Ironvita Blood & Oxygen™?
A: Deficiency of dietary sources of folic acid, iron, copper or cobalt, combined with a demanding work program can lead to the deficiency anaemia complex, loss of appetite, infertility and abortion, and increased susceptibility to stress.
Ironvita Blood & Oxygen™
Active constituents: Each 30 mL dose contains: IRON 300 mg, COPPER 30 mg, COBALT 1.1 mg, FOLIC ACID 9 mg
A palatable supplement for the prevention and treatment of clinically insignificant deficiencies of iron, copper, and folic acid in horses. IRONVITA BLOOD and OXYGEN contains iron, copper and cobalt, the three essential trace-minerals required for haemoglobin synthesis complemented by the vitamin, folic acid. Studies have shown that stabled horses, andthose in full work, such as racehorses and harness horses, eventers, polo and endurance horses especially under heavy sweat conditions, require considerably greater amounts of these trace-minerals and folic acid than are normally available in feed.
Downloads:
S.D.S DATASHEET