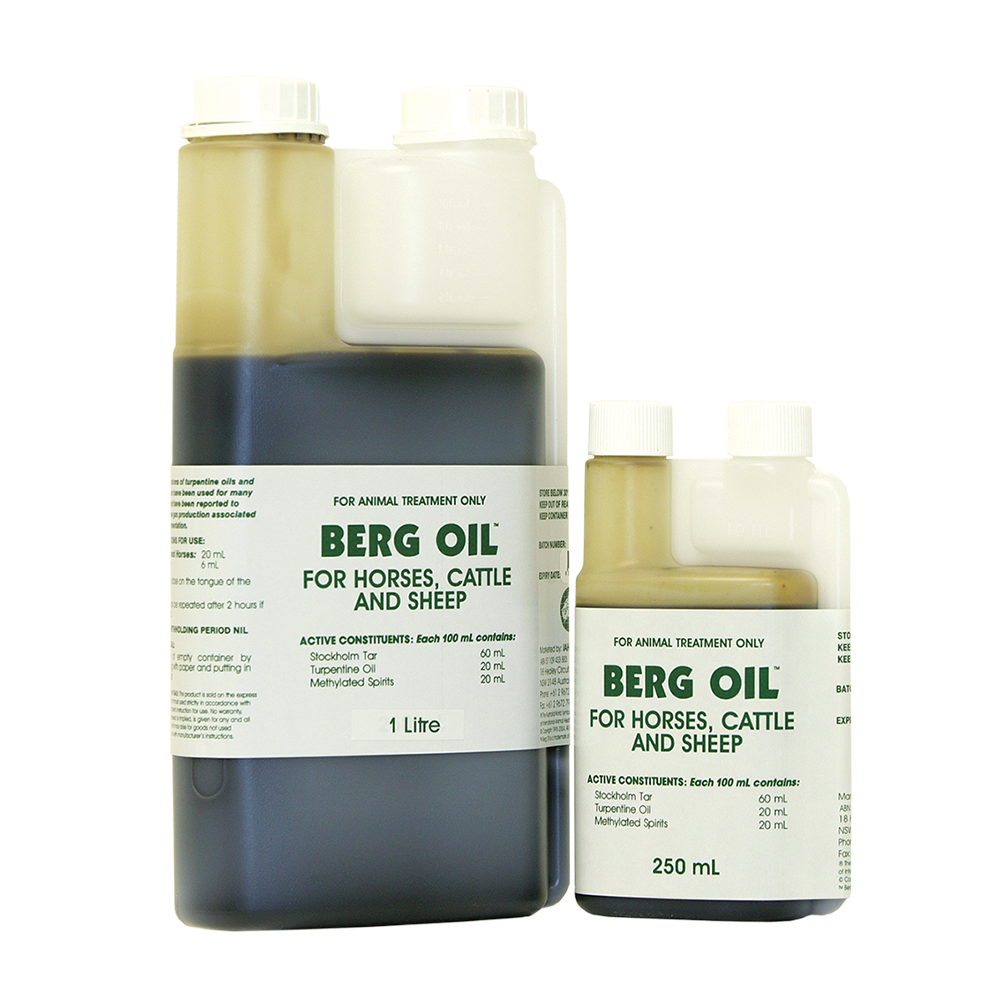 Berg Oil™ for Horses, Cattle & Sheep
Berg Oil™
Traditional remedy to control excessive fermentation
Traditional remedy reported to control excessive fermentation and decrease gastrointestinal discomfort in horses, cattle and sheep.
A combination of wood tar, gum turpentine and methylated spirits which have been used for many years and have been reported to decrease gas production associated with fermentation.
Does not irritate the mucous membranes of the mouth and the digestive tract.
The actives in BERG OIL are reported to be calmative and may assist in relieving gastric discomfort.
Methylated spirits reduces the frequency of sudden muscle spasm, background spasticity with associated colic pain and functional disability caused by the excess gastrointestinal fermentation.
Pack sizes: 250 mL, 1 L
Available: Australia
Find A Store near you
Berg Oil™
Active constituents: Each 50 mL contains: STOCKHOLM TAR 36.5 mL, GUM TURPENTINE 6.5 mL, METHYLATED SPIRITS 7.0 mL
BERG OIL™ is a combination of wood tars, turpentine oils and methylated spirits that has been used for many years and have been reported to decrease gas production associated with fermentation. Taken orally, BERG OIL does not irritate the mucous membranes of the mouth and the digestive tract. The actives in BERG OIL are reported to be calmative and may assist in relieving gastric discomfort. They may also help counteract the griping action of purgatives. Methylated spirits reduces the frequency of sudden muscle spasm, background spasticity with associated colic pain and functional disability caused by the excess gastrointestinal fermentation.

Downloads:
S.D.S DATASHEET